Even older generations are now starting to shift from turntable to online radio. With more choice and higher quality, there's never been a better time to listen to the radio online. We have tested six of the best streaming services where you can listen to free music online without paying anything.
Most of the radio stations all over the world are somehow connected to internet and we can hear them online. These sites below also contains sites which allow you to run your own radio channel. Let's see what all good options you have..
Behind its deceptively simple homepage, TuneIn lets you listen to more than 70,000 local and global radio stations for free. Choose a genre, such as Adult Contemporary or World Music, or browse by location to tune into high-quality music, talk shows and sports programmes at the click of a button.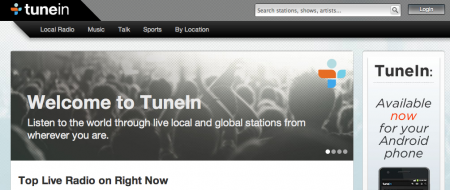 There are lots of brilliant aspects to TuneIn that make it the clear winner of this radio – streaming contest. It's incredibly flexible, providing apps for Android, iOS, Blackberry, Windows Phone, audio systems and smart TVs that give you instant access to your favorite stations, no matter where you are. You can choose the best stream for your media player and internet connection, and station information usefully includes playlists, contact details and the time remaining until the show finishes.
TuneIn hosts both major and minor broadcasters, with BBC radio sat alongside specialist stations such as Big Blue Swing and AOL Wedding Songs, Whereas services such as Pandora has been hampered by regional licensing restrictions, TuneIn's content covers everywhere from Albania to Zimbabwe, and includes hundreds of US stations, Each stream has a reliability rating, and you can save your favorite stations and songs.
Everything on the site and in its apps is easy to find and use, so you never feel you're missing important features by not digging deeper. The Flash radio player is also smooth and good quality. TuneIn puts endless music and talk at your fingertips. Its smart, simple design lets you listen to whatever you want, whenever you want, with more choice than any other service.
It seems unfair to say that the AOL-owned Shoutcast 'only' offers access to 54k+ radio stations, but TuneIn offers thousands more and feels more in tune with modern listeners' needs.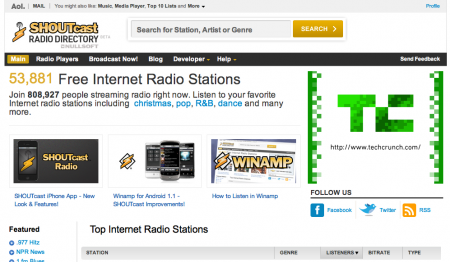 Nevertheless, Shoutcast is a superb service with very diverse content its DIY approach lets you create your own radio station which can be added to the global directory. As a result, broadcasts with 4.5k + listeners sit alongside those that have "yet to find an audience".
You can search for stations by name, artist and genre, and tune in to most with a single click. Shoutcast also tells you the audio format and quality of each broadcast, which varies from tinny 24Kbps streams to a full-toned 192Kbps.
It integrates seamlessly with media players, including iTunes, Windows Media Player and Winamp (also owned by AOL), making it easy to find and tune into stations without having to visit the site. It's not hard to see why Shoutcast has millions of loyal fans. It's free and easy to use, has a eclectic range of stations and treats listeners and broadcasters with respect.
Radioplayer is a fantastic free service focuses on letting you find and listen to more than 330 UK radio stations, from national BBC programmes to local broadcasts from the likes of Dearne FM.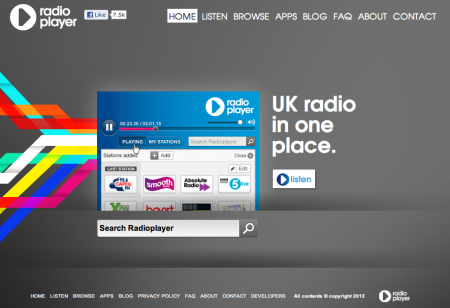 The Streamlined design couldn't be easier to use, with a homepage that consist of little more than a search box. Type the name of a station, pragramme or presenter; specify a location or postcode; or just enter a topic you're interested in to view relevant live and recent broadcasts. Click Play to open the player window and tune in.
The streaming quality depends on the stations themseleves, but we didn't experience any sound problems or buffering. If you don't wnat to listem thorugh the website, Radioplayer also has a Desktop program, a Facebook app and Chrome add-on, all of which let you save your favorite stations as presents.
Radioplayer may look dull compared to Shoutcast and TuneIn, but this simplicity is also its greatest strength. Hopefully it won't be lost as the service expands.
This cheap and cheerful looking radio directory covers a variety of music geners, from rock and jazz to ambient and techno, also lets you browse by decide. Each station is available to stream online or download as a playlist, and you can record and share your own broadcast for as little as £5. Internet Radio is based in the UK, which should in practice make for more reliable streaming, but we found that some stations didn't play when launched.
At last.fm, you can create you own radio station based on your favorite artists and genres just by typing a name and clicking Play. The new Multi-Artist feature lets you choose up to three acts to give your channel more diversity, and there are useful tools for sharing, saving and buying tracks. You can also browse stations created by other people and ban songs you hate. You won't find any official radio stations here, but the personal touch works well.
Like TuneIn, Streema gets around the regional restrictions imposed on some radio services   to give you access to stations by name, and view the most recent songs played on each stream. Our main complaint is that social elements swamp the site. You're encouraged to "Write something on this wall." every time you launch the player, which detracts from the music.