This collection of free WordPress portfolio themes reviewed by CollectiveRay contains the finest hand-picked theme for categories like personal, business, portfolio and corporate style websites. The main reason to have a portfolio website is to showcase work you have done in the past to your new customers. This is another way to promote yourself online.
The main features of real portfolio theme are engaging slideshows, front-page sliders, well-designed galleries and more such visually brilliant elements. All these features can make your site stand out from the rest of the crowd. The free WordPress portfolio listed below are all responsive and have excellent functionalities, you can download it for any personal or business use.
Lightbox
Are you looking for a feature-packed portfolio theme which can present your beautiful photos? Do you need the most complete portfolio options? Different portfolio overlays with unique animations? Awesome touch gallery? Artistic and professional journal? Then Lightbox is the right choice for you.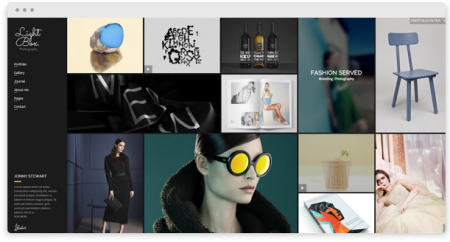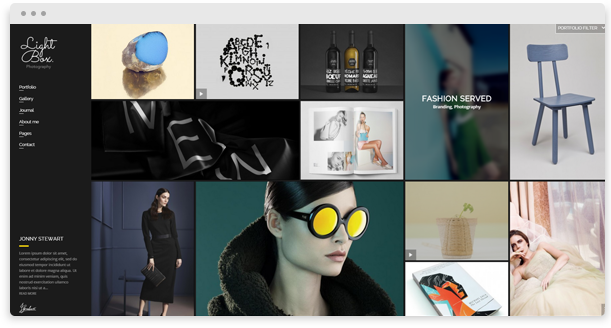 Hatch (Free)
Hatch is a simple photography and portfolio WordPress theme. Optimized for mobile browsing – the responsive layout will automatically detect if the visitor is viewing your site on a desktop screen or a mobile device (smartphone or tablet) and will adjust accordingly. A parent theme – easy to customize via child themes, and built on the Hybrid Core framework.
Exhibition Theme (Free)
Exhibition Theme is clean and modern WordPress theme with a blog like design. This is perfect theme for any artist to showcase their portfolio and blog about their work.
Virtue (Free)
Virtue free theme is extremely versatile. For a free theme it's loaded with tons of premium options. You will find it easy to customize and fully loaded with great features. The clean modern design is built with html5 and css3 and uses the powerful responsive framework from Bootstrap to be a fully responsive and mobile friendly.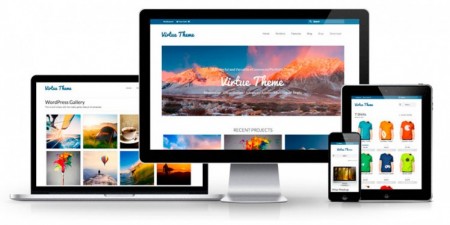 Imbalance 2 Portfolio Theme (Free)
Boldy (Free)
Portfolio Press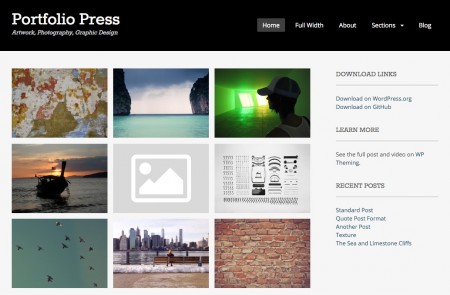 Leon
Leon is my first fully responsive wordpress theme. What is a responsive theme? A responsive theme means it will adjust the theme layout according to the screen size of the media. So the theme will have a different layout while viewed on a computer screen , on a tablet or on a mobile browser. This will be adjusted automatically. Thanks to the awesome Skeleton framework . Apart from that the theme is WordPress 3 ready, and has custom menu feature, featured thumbnails, widgetized sidebar and footer, theme option page etc.
Illustrious – Free WordPress Theme
Illustrious is a free WordPress theme that comes with a slideshow on the homepage, which you can use to showcase your site in a striking way. You can learn how to optimize product images and add as many slides as you want without limits, being able to use background images and even HTML formatting in the caption for added flexibility.
Simple Grid Theme Responsive
Simple Grid Theme is clean simple and modern WordPress theme. Great to showcase your portfolio and graphic design artwork. Any designer looking to showcase their work should try this portfolio theme.
Folder
Workality Lite
Workality Lite is a responsive portfolio theme for creative people and agencies. Great for building a simple portfolio website through portfolio post type with four different grid layout options.
Architekt Theme
Architekt Free/Premium WordPress Theme is clean simple and unique. Design to showcase your architectural portfolio This theme was inspired by works of Fantastic Norway
Enclosed – Portfolio Showcase WordPress Theme
Enclosed brings a full-width slideshow on the homepage, which you can use to create a magazine-like showcase of your site. The slider can be configured to have many different layouts, adapting to any image you choose to use as a background.
Portfolium
Adapt 2.0 Free Responsive Business Portfolio WordPress Theme
Adapt 2.0 is a free responsive business WordPress theme created right here at WPExplorer. The theme features a very clean and elegant business portfolio style design making it useful for small businesses, agencies, portfolios and more.
FloZo WordPress theme
Budding entrepreneurs and long-established organisations can now take advantage of FloZo, an easy to use, free WordPress theme from Flyerzone
Chun
Portafolio Free Responsive Portfolio WordPress Theme
Meet the new and improved Portafolio WordPress Theme. This awesome free theme was created with portfolio sites in mind but it also makes for an awesome business theme or a simple blogging theme. The minimal layout puts all the focus on your work and how great you are making it an excellent option for photographers and freelancers alike.
Xenon
Pinboard
Pinboard has been designed with showcasing content in mind. It has several options for layout and the number of columns on which content is displayed and has a portfolio section if you wish to elegantly show your work. Are you ready to take this theme for a spin?
Snaps
Snaps is a free portfolio theme for WordPress perfect for showcasing portrait images and galleries.
Pytheas Free Responsive Corporate/Portfolio WordPress Theme
Rasputin
Onesie
Mixfolio
Bodega Free WordPress Business Portfolio Theme
Showcase
32. Stendhal
Briefcase
Simple Photo Theme
Grid – Free Download Limited Responsive Version
Neptune
Tempera
wpFolio
Tiara
Asteria Lite
Svelte
Mantra WordPress Theme
Corpo
Digest – A free portfolio / gallery WordPress theme
Designfolio
Touchfolio
Heavenly Portfolio theme
Biznez Lite
ArtWorks
Gridster Lite WordPress Theme
Gridster-Lite
With the grid based homepage, Gridster is a tiny little portfolio theme which can be used for creatives and photographers. You can use the left sidebar to show your photo in style. It also has a full version which is paid, but for starters this free theme is a good choice.
AutoFocus+ WordPress Theme
If you are looking to showcase your work in a well designed manner, where you have sharper typographic and baseline grid approach then Autofocus+ can be your end choice.
With 800px, 8 columns grid, this theme has been updated to provide strong markup and great browser support that can help you customize without playing with code.
Spun
Spun is unlike anything else currently in the theme repository. It's clean as a whistle and feels minimalist, but it's actually quite cutting-edge. Truly inspiring.
Portfolio Press
Portfolio Press is an old theme with some pretty awesome features like it supports Portfolio Post Type and Options Framework, both of these are plugins with greater functionality.
Portfolium
Demo | Download
Portfolium is flexible grid based theme for WordPress and can be used on a portfolio type blogs. You can make use of Portfoliums great feature to showcase your creative work. It has a fresh and minimalistic approach which made this theme much more exclusive than many others. For blogger who want to write posts and all can go for the blog style view which will make your blogging journey easy.
Fontfolio
Demo | Download
If you are looking to build a creative portfolio online, then this grid based and masonry layout will give you a cool look. I love the way its been displayed when you see the demo. It surely has some great user experience attached to it.
Creative by Nature
A high quality theme for Creative people like photographers, artists, and designers to showcase their work with the world. No doubt its looks are funky and flexible.
Simple Grid
Simple Grid Theme Responsive is a WordPress Theme with mobile and tablet receptive style. Grid like layout Theme is ideal for any imaginative agency to exhibit their collection. The look resembles a bit by the jobs of El-Studio imaginative visuals design workshop.
Touchfolio
Touchfolio is simple theme developed with prime focus on content and giving excellent individual encounter on bulk of desktop computer and mobile devices.
Unstandard
An additional free theme for WordPress. The Unstandard is an awesome two column portfolio design WordPress style with three widget made it possible for zones. It has a custom history help, custom nested food selections help, and five color alternatives.